I really appreciate you getting the information to me so quickly... I want to give you the credit for doing the work and add credibility to the fact that it wasn't [my own company] that performed the tests.
—product marketing manager, a major RIP/controller manufacturer
Read More Success Stories »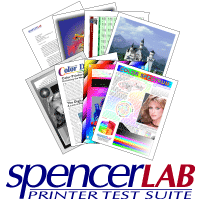 The SpencerLab Printer Test Suite (Ver. 4.6), is now available for licensing to the general public.