Demo Page Optimization
When potential customers compare your demonstration prints with your competitor's, make sure you have your best print forward.
Showing a product's best print quality—highlighting its strengths and avoiding limitations—requires careful optimization (some clients call it spencerizing) of all document elements, while maintaining focus on the print's "WOW" aspect and its appropriateness for targeted markets
Demonstrate your Print Quality
You are about to introduce a new printing device—printer, copier, MFP, etc.—at a major industry event. Potential customers will walk by. Out of the corner of their eyes something must demand attention. It's sitting on that printing device—it was just printed—in fact, the device is printing it as they watch. WOW, it is beautiful! Sure, it's a print sample designed especially for the purpose—but if the device can print that sample that well, maybe it's really worth a deeper look...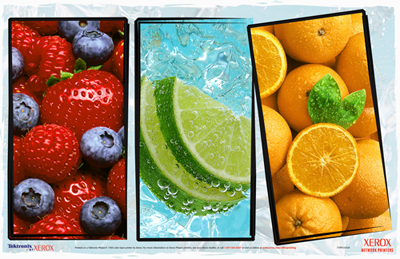 With this product introduction, sales staff want to download great demonstration pages, wherever they happen to demonstrate it.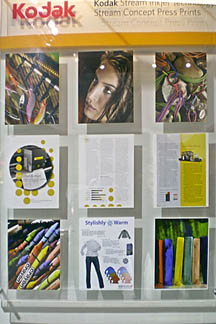 Known for our established standards for the measurement of print quality—including Text, Linework, Tints & Blends, and Images, SpencerLab individually pre-tests every printing device; identifies strengths and weaknesses; chooses fonts, graphics and imagery to complement those strengths (and minimize weaknesses); and creates that special WOW sample. Using a representative unit—prototype or preproduction—of the specific printing device for which it is intended, print samples are optimized through a proprietary iterative process—some clients have been referring to our proprietary process as spencerizing.
Our entire process is tightly controlled, from the testing of the printing device, through interaction with the creative process, to the delivery of final print files. Files are delivered on CD or DVD and/or by Internet download—in PostScript as well as PDF format, wherever appropriate.
Vertical Market Demo Page Development

In addition to WOW samples, we have produced numerous vertical market demo print samples targeted for specific market segments.

Competitive Demo Page Development

Demo print samples may include the results of our independent, third party testing—message your advantages in a print potential customers want to keep.


Our Creative Team or Yours

SpencerLab augments its in-house creative design staff with experienced partners; we have also achieved excellent results working with our client's designated creative agencies.

SpencerLab has been creating hundreds of such print samples for nearly a decade. Our clients have included Canon, Hewlett-Packard, KonicaMinolta, Lexmark, Oki Data, Ricoh, Sharp, Xerox, and others.
Investment in high-quality, optimized print samples pays a repeating dividend. Good print samples can be used again and again at shows throughout the product's lifetime, can be customized for international markets, and configured for download by potential customers, as well as distributed sales staff.
Whether its a Beauty Page, a Glamour Page, a Splash Page, or just a Demo Page, our spencerized pages make your customers think WOW.