Paper
Print Quality is determined by the performance of the entire print system. One vital part of the equation is paper. Brightness and thickness of the paper are key factors to overall Print Quality, but also smoothness, flexibility, absorbency or ability of the media to hold ink/toner, etc.
SpencerLab is experienced in testing many of the interactions between inks, toners, and paper media such as Media Print Quality, Output Durability Testing, and Dry Time and Smudge Testing. We handle a wide range of paper including plain, coated, glossy, photo, labels, stickers, postcards, and recycled for a variety of technologies: inkjet, dye-sub, laser – from consumer through production press.
Paper Print Quality
SpencerLab understands that the factors that constitute an acceptable print vary from market to market, and from user to user; a print deemed fit-for-purpose in an office environment might be considered totally unsuitable for distribution by a graphic arts production house. In the same regard recycled paper maybe acceptable for personal use, but a user may deem it not appropriate for a professional report. Print quality competitive benchmarking analyses can highlight a paper's strengths and gauge consumer reaction within the marketplace.
More than one hundred test files, available as part of the SpencerLab Printer Test Suite, facilitate comprehensive Print Quality analysis of:
Text
Line
Tints & Blends
Computer Graphics
Photographic Images
In addition, analysis of brightness and color measurements with resulting gamut sizes and shapes can emphasize the benefits of one paper over its competitors. For example, a specific paper type may enable bolder blacks, higher color saturation, or brighter whites.
Output Durability Testing & Analysis
SpencerLab is also experienced in the area of Output Durability Testing and Analysis. Multiple test sets are available (depending on technology and paper) and may include:
Durability and Handling Testing

Scratch & Abrasion
Tactile
Fold & Crease
Paper Curl
Writing
Data Removal
Handling

Liquid Fastness Testing

Various reactants
Spray
Immersion
Blot
Dry Time/Transfer Testing
Dry Time is the time it takes for output from an inkjet printer to be considered dry. This factor should be as short as possible and although there may be some exceptions, paper should have a nominal dry time of zero. SpencerLab can conduct customized Dry Time testing on various paper types, including plain, coated, glossy, photo, labels, stickers, postcards, recycled, etc.
Smudge Testing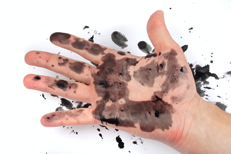 The inherent characteristics of inkjet make it more susceptible to smudging. Smudge testing of inkjet media is crucial, although toner is not immune to this flaw. Smudging causes lower Print Quality and may result in output to be unusable. SpencerLab has experience in conducting customized media Smudge testing, typically with a varied selection of printers involved in the evaluation to assure representative results.
Customized Testing
SpencerLab offers manufacturers, vendors, and end-users customized testing options. We will work with you to develop testing to assist you with your analysis and business needs. SpencerLab provides globally recognized, third party verification of tested products.