SpencerLab Training Seminars
This set of on-site seminar presentations provides a basis for understanding a wide range of issues involved in digital color printing hardware and software—keeping your staff up-to-date.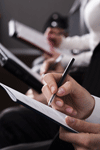 With our knowledged in color print quality, we are pleased to provide a complete overview of color imaging issues:
The Nature of Color
Measuring Color
Color Management
Printer Technology Quality Factors
Printer Architecture & Technology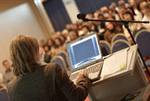 As participants in the development and standardization of yield measurement, we are pleased to provide a complete overview of consumable yield issues:
ISO/IEC 19752 monochrome toner yield
ISO/IEC 19798 and 24711 color ink/toner yield
ISO/IEC 24712 color yield test documents
These are important areas considering, user's are concerned with TCO-related Cost-per-Print and potential tradeoffs with Print Quality.
Custom Seminars
SpencerLab is pleased to provide on-site seminars in any area of our expertise.