Ease-of-Use & Functionality
The user experience encompasses more than the click of a Print button and the retrieval of output from your product's tray—numerous scenarios factor in, and all present unique opportunities to excel... or to fall short. SpencerLab knows that the user experience directly affects service cost, consumables sales and follow-on product sales, customer loyalty and word-of-mouth advertising, and almost every other aspect of doing business.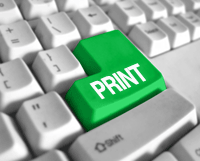 Ease-of-use continues to be a differentiating factor amongst printing products in the marketplace. Products that are intuitive and easy to use lead to increased customer satisfaction, and satisfied customers are repeat customers who tell their friends about their experiences.
SpencerLab can help you to identify and market opportunities to excel, and find out what customers really think about your product's ease-of-use and functionality.
Opportunities to Excel
There are numerous opportunities to excel by making your printing product intuitive and easy to use. Consider the following situations and contexts wherein customers interact with your product, and the impressions they create:
Packaging & Out-of-the-Box Experience (OOBE)
Setup & Installation
Usability during Initial & Subsequent Operation
Driver & Software Features
Ordering and Replacing Supplies & Consumables
Troubleshooting & Maintenance
Network Deployment & Management
Product documentation (hard copy & electronic)
Technical Support (via telephone, email, web site knowledgebase)
In addition to current products, we can analyze products still in beta that are not necessarily feature-complete but are functional enough to test. Research results can be used by R&D teams to improve a product's design, or by sales and marketing departments for development of competitive marketing collaterals.
When Opportunity Knocks, Open the Door
SpencerLab can conduct Ease-of-Use testing in our own facilities and/or in Central Location Testing (CLT) focus group environments.
Laboratory Testing Environment

At the SpencerLab Digital Color Laboratory facilities, we analyze Ease-of-Use with proprietary, user-representative, multi-level assessment procedures. Multiple levels of evaluation range from comprehensive observations to weighted ratings of specific tasks.

CLT Focus Group Environments: What Customers Really Think

SpencerLab conducts CLT focus group testing domestically and worldwide, and can address all the needs of international localization: managing relationships with international partners, understanding issues of language and culture, and handling associated logistics.

As above, multiple product elements can be evaluated, as the intended customer will experience the "whole package." Most often, clients target several key areas of focus aligned with their marketing goals, and those areas are studied in detail, noting similarities and differences with key competitors.
SpencerLab's Ease-of-Use studies help our clients to develop convenient products, satisfy their customers, decrease expenditures on technical support and training, advertise Ease-of-Use successes, and ultimately increase market share. Contact us today for more information.
Learn About Usability & Functionality: