Learn About Consumable Yield & Cost-per-Print
Monochrome Toner Yield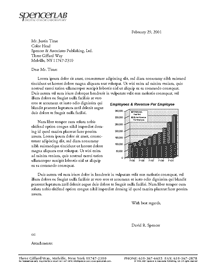 Although today's inkjet printers and MFPs can print in color, monochrome xerographic laser/LED devices are also commonly used. Monochrome toner cartridge testing requires a consistent definition of cartridge "end-of-life". SpencerLab created a 5% coverage, representative test document standard in 1991 (included in the SpencerLab Printer Test Suite), and has been performing monochrome toner yield testing ever since. Our work was a basis for the first yield test to have an ISO/IEC standard (see below).
ISO/IEC 19752 Yield

The ISO/IEC recently released standard 19752, "Information technology—Method for the determination of toner cartridge yield for monochromatic electrophotographic printers and multi-function devices that may contain printer components". (SpencerLab participated significantly in its development, and particularl in the development of the test document.) All ISO/IEC testing must be under tightly controlled temperature and humidity conditions specified by the standard, and results are reported in accordance with required statistical confidence levels. ISO/IEC standards are intended to specify yield for individual printing devices.

Standard Comparative Yields

In addition to specifying a standard yield for individual printing devices, users want to know how competitive printing systems compare when printing other document types—documents more appropriate to their usage. I comparative yield testing, issues such as computer and software configurations can be more tightly controlled, and testing can be based upon documents representative of various user environments.
Explore SpencerLab solutions…